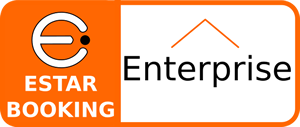 Estar booking Enteprise
This Enterprise service represents the top in
vacation rentals booking software management
, with
dedicated modules
,
unlimited properties management
,
platform customization
and
dedicated resources
.

Main functions and modules
Delivery
: Cloud Service application, Dedicated server with custom resources, 24/7 use everywhere you're connected.
Version
: Unlimited Properties, custom settings.
Common modules
: Property main data upload, Geopositioning, Booking rules, Rentals Price list (day/cost per period, with minimum stay control), Service Prices (mandatory, or not), Property availability (per period, direct booking, or on request), Photo Gallery, Facilities, Vacation Themes (opportunity to connect accommodation to online local tourist paths and information), Closed periods, iCal out Availabilities (real time data on a fixed URL per property), Planner ( with all the bookings positioned), Booking confirmation via PDF file, Check in management (booking registration and payments), checkout , XLS downloadable Booking reports.
Backoffice filtered access, (admin, sales, etc.), Owner on line registration, Property upload by the owner, or Property manager, Agencies Business access, SMS gateway, E-mail handling and management per event mode, with custom e-mail service. 4 reports families (Vacations, Agencies, Owners, Property managers)
Support service
: Online ticket, custom dedicated services.
Server geopositioning
: Custom positioning.
Backoffice
EN
interface, optional labels translation with custom terms.